September notice - ANU Sport Renovations 
ANU Sport has started some renovations in the new hall (which houses the gear store). There are many signs up saying the hall is closed, but we've been assured we can continue to access the gear store for our regular hire hours. 
The gear store is still open. You can access the new hall via the door from the old hall.
There might be some unforeseen impacts from the renovations. We'll do as much as we can to help you hire gear but please be patient and nice to our gear store officers.
---
The ANUMC has an extensive inventory of equipment associated with the activities that the club runs. This gear is available to members for very reasonable hire rates to support their participation in club activities. 
Wednesdays: 6:30pm to 7pm during semester
Thursdays: 6:00pm to 6:30pm during semester
Entry to the gear store closes 15 minutes before the end of the session.
If you have arrived at the Gear Store before this time, we will ensure that you have the gear you need. If you arrive after, then you will unfortunately need to source gear elsewhere or postpone your trip.
The gear store may be opened at other times at the discretion of the gear store officers. Trip leaders conducting a pre-trip meeting other than normal hours and who require gear hire, should contact the gear store officers to request assistance.
Can't return your gear on time?      
Email the gear store officers regarding your situation and ask for an extension: anumountaineeringclub@gmail.com 
---
Location
The gear store is located in the ANU Sport building (David Cocking Sport and Recreation Centre, Building 19A on Campus Map) in the far sports hall inside Storeroom 4 and up the stairs.
Map shows the route to the gear store through the sports hall. Note the gear store is not wheelchair accessible due to its location in the loft of a storage area up stairs. ​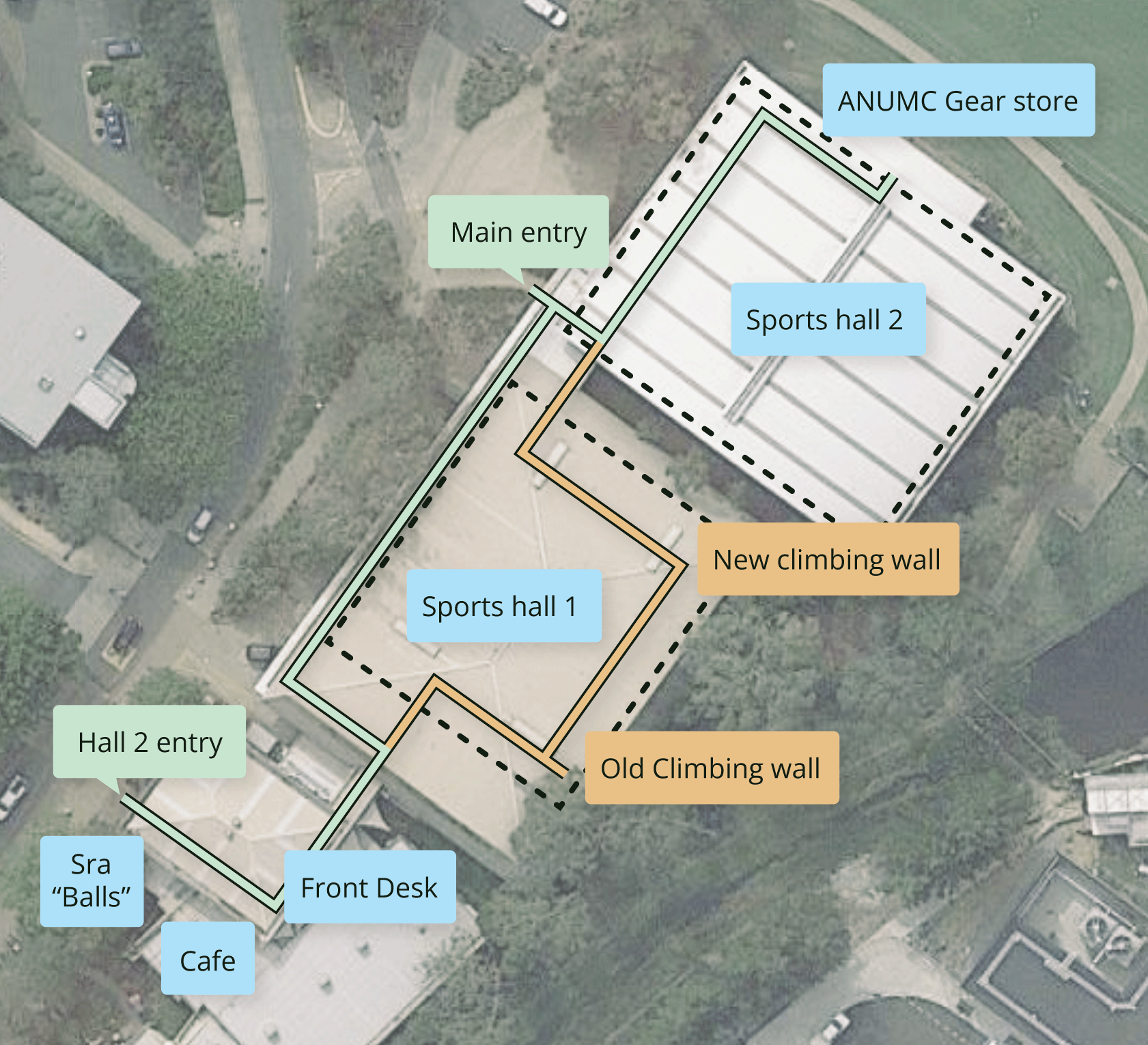 Only ANUMC members may hire gear. All members are required to pay hire fees and a deposit. Hire rates (for both club trips and private trips) are per week. If you wish to extend the duration of your hire you will need to return the gear and re-hire it. Multi week trips will need written approval from the head gear store officer and will be charged on a per week basis.
All hires are subject to the gear hire rules. 
---
Club Trip Hire / Week
The below hire rates are flat rates, meaning they are fixed regardless of how many items are hired. These rates are for the hire of gear for personal use on club trips.
| Category | Fee per week | Deposit |
| --- | --- | --- |
| A | $0 | $10 |
| B | $10 | $30 |
| C | $10 | $60 |
| Category | Gear |
| --- | --- |
| A | foam sleeping mat, whistle, book, groundsheet, trowel, poo tube |
| B | everything other than A or C |
| C | AT ski gear, trad gear, mountaineering tents, party tent |

Trip leaders may hire personal gear free of charge but are still required to pay a deposit.
---
Private Trip Hire / Week
Only Categories A and B (above) are able to be hired for private trips, with the exclusion of trad gear, which may be privately hired, with the approval of the climbing officer. Ropes cannot be hired for private trips. Private hire for any ski gear requires approval from the skiing officer.
Club trips get priority over private trips. Hire fees for private trips are higher than those of club trips in order to incentivise people to make their private trips available to other club members. 
| Items available | Fee per week | Deposit |
| --- | --- | --- |
| Up to 3 items | $30 | $30 |
| Up to 6 items | $30 | $40 |
| Up to 9 items | $30 | $60 |